SDBA Membership Elects 2022-2023 Officers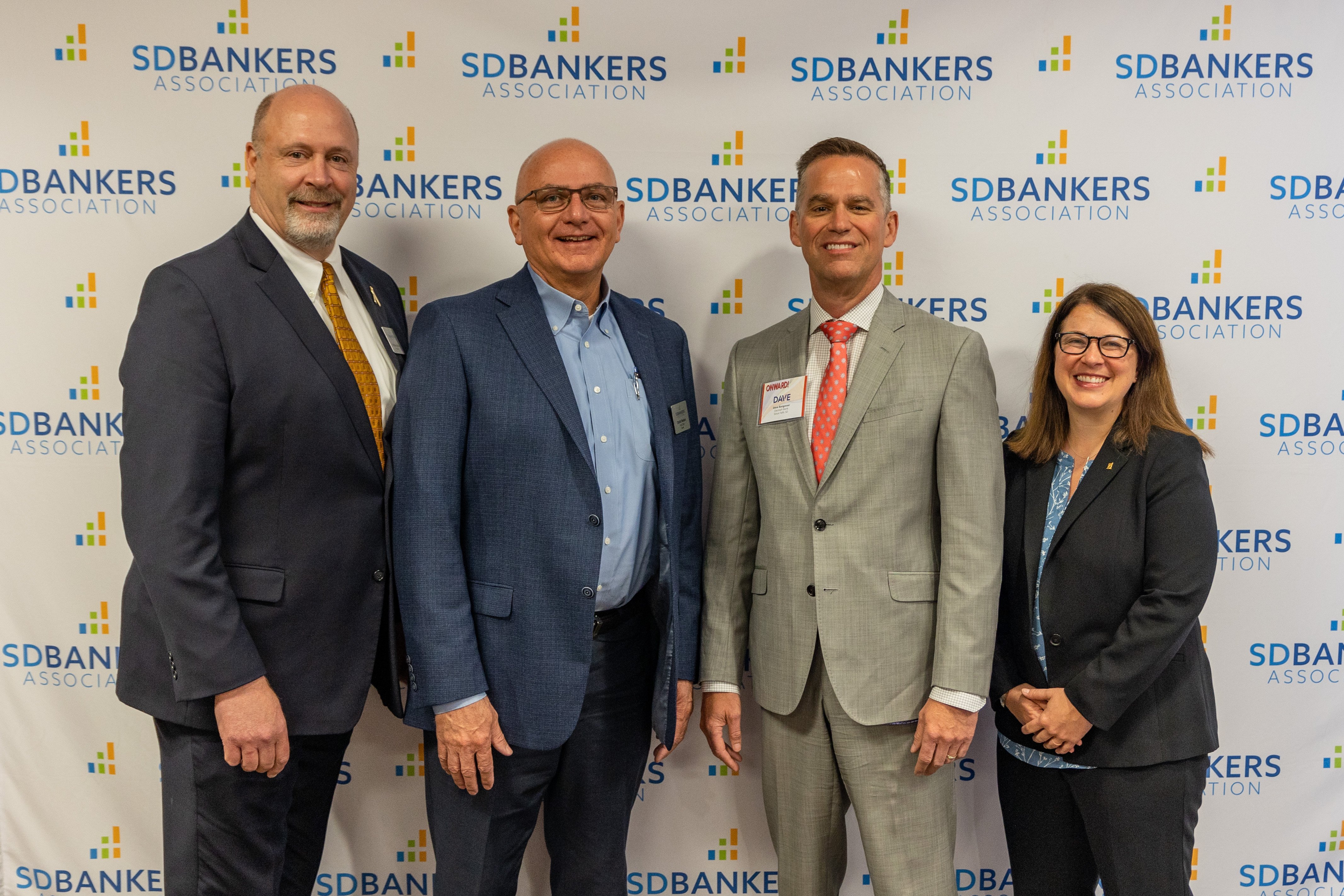 L to R: SDBA President Karl Adam, Chair-Elect David Nelson,
Chair Dave Bangasser, and Immediate Past Chair Kristina Schaefer
(Not pictured: Vice Chair Dylan Clarkson)
SDBA membership elected officers for 2022-2023 during the SDBA's Annual Business Meeting on June 15th in Bismarck, N.D. The SDBA's new officers are:
Chair: David Bangasser, Senior Vice President Chief Banking Officer, Dacotah Bank, Sioux Falls
Chair-Elect: David Nelson, President/CEO, First Fidelity Bank, Burke
Vice Chair: Dylan Clarkson, President/CEO, Pioneer Bank & Trust, Belle Fourche
Immediate Past Chair: Kristina Schaefer, Executive Vice President, Chief Risk Officer and Chief Administrative Officer, First Bank & Trust, Sioux Falls
The new officers will serve in their positions through the 2023 Annual Convention to be held in Sioux Falls.

Chair David Bangasser
David Bangasser is senior vice president chief banking officer for Dacotah Bank in Sioux Falls. He began his banking career in 1982 working for Western Bank in Sioux Falls. He went on to work in St. Paul at Heritage National Bank, Firstar Bank of Minnesota and American National Bank. Bangasser joined Dacotah Bank in 1995.
Bangasser is a Junior Achievement classroom volunteer as well as a board member for Junior Achievement of South Dakota. He has previously served with El Riad Shriners, Singing Boys of Sioux Falls, Downtown Sioux Falls, Sioux Falls Chamber of Commerce and Zoological Society of Sioux Falls.
Bangasser and his wife, Karen have been married for 40 years. They have one daughter, Megan Hartz. Megan and her husband, Dusty have two children: Cohen (15) and Cade (14).

Chair-Elect David Nelson
David Nelson is president and CEO of First Fidelity Bank in Burke. Before joining the bank in 1995, he worked as an investment representative for American Express. Nelson has a bachelor of science degree in business administration and a master of business administration from the University of South Dakota and attended the Graduate School of Banking in Wisconsin. He has Series 7, 63 and 65 national securities licenses.
Nelson is a member of the Burke Business Promotion Corporation and the Platte Area Foundation Board. He is past president of the Platte Development Corporation and previously served on the Platte Chamber of Commerce Board, St. Peter's Catholic Church Council and the Platte Black Panther Booster Club Board. Nelson is a member of St. Peter's Catholic Church and the Knights of Columbus.
Nelson and his wife, Bernadette have been married for 43 years. They have three grown daughters and seven grandchildren.

Vice Chair Dylan Clarkson
Dylan S. Clarkson is president and CEO of Pioneer Bank & Trust in Belle Fourche. Clarkson graduated from Montana State University in 1997 with a degree in Economics. Before joining the bank and following in his family's footsteps, he ran a car dealership, working his way up to the position of general manager for Dick Walter Audi. That experience led to his first opportunity in banking when he found his place at a family-owned community bank, American Bank in Bozeman, M.T. for 9 years. There he worked through multiple departments and ended as the Bozeman Area market manager. In 2014 Dylan was elected to the Board of Directors for Pioneer Bank & Trust. In 2017 Dylan replaced his retiring predecessor, Kevin G. Whitelock as President and CEO. Pioneer Bank & Trust has been owned by the Clarkson family since 1913.
Clarkson is a member of the Bank CEO Network, a council member of the Federal Reserve - Community Depository Institution Advisory Council, a board member of the Banker Advisory Board for the Conference of State Bank Supervisors, and a board member of the OneHeart, Rapid City Board of Directors.
Dylan, his wife, Nicki and their young son, Ben relocated from Bozeman, M.T. to Spearfish in February of 2016. In October of 2018 they welcomed their daughter, Elyse to their family. The Clarksons enjoy every day in South Dakota and spend as much time together outside as a family enjoying and discovering everything the beautiful region has to offer. They spend many days hiking, boating, skiing, fly fishing and generally exploring the Black Hills area.

Immediate Past Chair Kristina Schaefer
Kristina Schaefer is executive vice president, chief risk officer and chief administrative officer for First Bank & Trust in Sioux Falls. Schaefer serves as the organization's primary legal resource and also oversees the compliance, fraud, BSA/AML, audit, ERM third-party oversight, and human resource functions. During the past 15 years she has also held the titles of general and corporate counsel. Prior to joining the bank, Schaefer worked as an attorney in a private practice where she specialized in banking law and general corporate law. Before attending law school, she was employed at First Bank & Trust and worked in customer service and risk management.
Schaefer regularly coaches Girls on the Run and is on the Helpline Center Board of Directors. She also serves as a mentor as part of the LSS School-Based Mentoring Program and the EmBe Women's Leadership Program. She also represents community banks on the Consumer Financial Protection Bureau Community Bank Advisory Council.
Schaefer and her husband, Scott have two daughters: Olivia (15) and Harper (10).
Share this post: