First PREMIER Bank is #CastlewoodStrong
It was the afternoon of Thursday, May 12th, and much of eastern South Dakota braced for an evening of rough and dangerous weather. It was the kind of weather that makes the hair on the back of your neck stand up. Before long, social media feeds quickly filled with images of massive storm heads or "cloud walls" that looked as ominous as they sounded. We later learned from the National Weather Service (NWS) that the so-called "cloud wall" had a name: derecho. South Dakotans along the I-29 corridor will not soon forget it, either. Before long, the day's cautions lead to warnings and storm sirens that bellowed across the town of Castlewood, South Dakota.
EF2 tornado in Castlewood
Castlewood, a small town in Hamlin County with a population well under 1,000, was one of the hardest hit communities that day after an EF2 tornado tore straight through the heart of town. Homes, churches, schools and parks faced the brunt, brute force of the wind and rain damage. But before the clouds even cleared and the rain lifted, Castlewood emergency crews and community members rallied to repair the damage left in the storm's wake.
Castlewood school gym aftermath 
Governor Noem, Sheriff Schlotterbeck, and Fire Chief Dustin Beebe
As told by Breanna Beebe, Branch Manager for First PREMIER Bank in Castlewood and Lake Norden, "Immediately people were reaching out asking where to bring donations. The Castlewood Community Foundation opened the Castlewood Relief account at First PREMIER Bank. The donations coming in have been very generous, ranging from personal contributions, churches, businesses, etc.
"Our mayor was handed $500 from a couple in Brookings who came down the weekend after the tornado and told the mayor that when they were passing through, they had stopped at Ida's when she was just opening," Breanna continued. "She had given them free ice cream on the house, and now they wanted to now pay it forward to our community with a donation."
Breanna added that Terex Utilities, a manufacturer of utility equipment in Watertown, held a raffle where their employees raised $6,980. Terex matched that for a total of $13,960. Breanna said this was just one of many connections made following the tornado. "Immediately after the tornado hit Castlewood, I was in contact with my Northern Market Leader, Mark Dunn and Tony Nour, Sr. VP of Relationship Banking," Breanna said. "I can't explain how it feels to have the support of your employer being there for you, your branch, and our whole community the way First PREMIER Bank has done throughout this entire time. I was notified of the $50,000 donation when Dana Dykhouse and Dave Rozenboom visited Castlewood the following Monday. The fund keeps growing because of the generosity of our surrounding communities and employers."
Breanna Beebe, Mayor Brian Ries, and First Premier Bank President Dave Rozenboom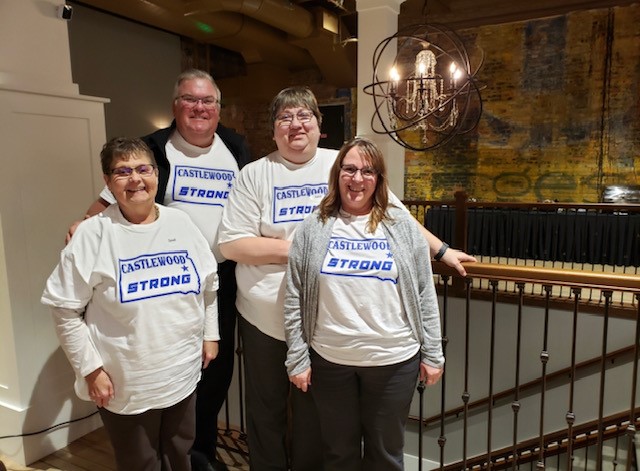 Castlewood tellers with Dana Dykhouse - Janell Levisen-Bemis, Carol Collins, and Amy Haug
"Breanna joined us in 2014 and continues to do a fantastic job for PREMIER. While she is a person of humility, she has been an absolute champion for Castlewood which will come as no surprise for anyone who knows Breanna and her commitment to the community," said Tony Nour. "Breanna and her husband Dustin (a volunteer fire fighter) were down at the 'command center' within hours of the tornado. They have worked tirelessly the past weeks to help their community recover. Breanna, Dustin and their three children live right behind our branch in Castlewood, which fortunately received no damage at all. In addition to directly assisting in multiple ways with the recovery, she also helped organize a family fun night the next week, so families could enjoy some much-needed reprieve. A couple of our views and values at PREMIER are 'Make a Difference' and 'Eager to Serve'. Breanna has exemplified both values over and over the past weeks."
Breanna Beebe directing traffic during clean up
Donations are still being accepted at any First PREMIER Bank location under the Castlewood Community Foundation. There is also a Venmo option set up, using the handle @CastlewoodRelief.         
Finally, donations can also be sent by mail to: 
Castlewood Community Foundation 
PO BOX 263 
Castlewood, SD 57223
Share this post: