Federal Reserve Governor Michelle Bowman Visits South Dakota, Speaks with Bankers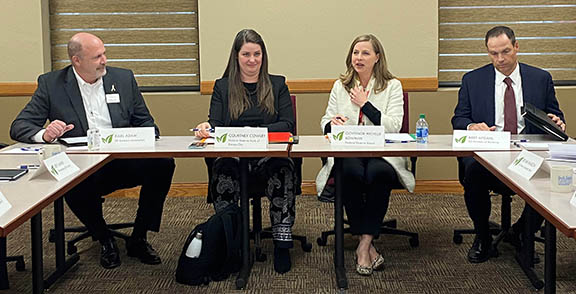 Federal Reserve Governor Michelle Bowman, a onetime Midwest community banker, spoke about her outlook for the U.S. economy and what the Federal Reserve has been doing to support economic activity during the COVID-19 pandemic recovery during a presentation at South Dakota State University in Brookings last evening. She also touched on what she has learned of the economic conditions in South Dakota from meeting with business and community leaders throughout the state this week.
Bowman made a pre-dawn visit to Mount Rushmore on Tuesday while en route to the Pine Ridge Indian Reservation. Later on Tuesday, she met with state, business and tribal leaders in Pierre, including a visit with SDBA President Karl Adam and area agribusiness leaders at the SDBA's office. She also met with a group of SDBA bankers in Brookings yesterday prior to speaking to the public Tuesday evening as part of the Dykhouse Scholar Program in Money, Banking and Regulation in the Ness School of Management and Economics at SDSU.
"Hearing directly about the successes and challenges from their perspective provides important context for understanding economic conditions that cannot be obtained from economic data," Bowman said. "These conversations help us see through the data from the eyes of the people, businesses and communities that make up the American economy. That information is very helpful to me and to us at the Federal Reserve as we make our policy decisions.
"As the member of the Board of Governors with experience in community banking, I often speak to local bankers, who are excellent sources to understand the important effects of monetary policy decisions on Main Street," Bowman went on to say. "With this perspective, and relying on my rural Kansas background, I also pay special attention to developments in rural communities and in the agriculture sector, monitoring the effect of Fed policy in those areas." Read Bowman's speech at SDSU. 
Photo: SDBA President Karl Adam, Senior Economist Cortney Cowley with the Federal Reserve Bank of Kansas City, Federal Reserve Board Governor Michelle Bowman and South Dakota Division of Banking Director Bret Afdahl.
Share this post: