SDBA's Fourth Annual Women in Banking Conference a Success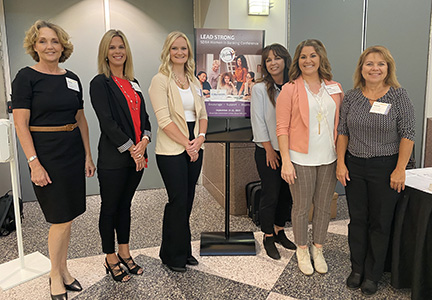 Two hundred bankers from across the state came together in Sioux Falls for the SDBA's fourth annual LEAD STRONG: Women in Banking Conference. The event is designed to encourage, support and inspire women to succeed in the workplace.
The event began Tuesday evening with a reception at R-Wine Bar in Sioux Falls and continued on Wednesday with a full day of sessions at the Sioux Falls Convention Center. Topics included creating the most awesome version of you, strong communication and listening skills, how courage plays a part in leadership, overcoming imposter syndrome, building a powerful presence, roundtable networking and a panel discuss with women banking industry leaders. 
Terri Luttrell with Abrigo in Austin, Texas, gave an eye-upcoming talk on human trafficking and the critical role that financial institutions can play in identifying and disrupting these crimes. This year's service project was donating gift cards to Call to Freedom, a group in Sioux Falls which helps victims of human trafficking. 
Thank you to this year's conference sponsors: First Bank & Trust, First PREMIER Bank, Bell Bank, Federal Home Loan Bank of Des Moines, Dacotah Bank, First Fidelity Bank, Reliabank, Rivers Edge Bank, Davenport Evans, First Dakota National Bank, Richland State Bank and Vantage Point Solutions. Next year's Women in Banking Conference is set for Sept. 13-14, 2022, in Sioux Falls. 
Share this post: