ABA to Hold 2021 Washington Summit Virtually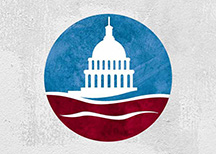 The balance of power in Washington has shifted, and with the new administration and Congress comes new opportunities to advance sound public policy on the issues facing banking. All of us are obligated to provide our real world expertise, perspective and assistance where needed. As the nation continues to address the immense economic shock caused by the pandemic and build a recovery plan, the banking industry is more important than ever.
The ABA will hold the 2021 Washington Summit virtually on March 16-17. Be the first to hear what lawmakers, regulators and the administration are planning in the weeks and months ahead. Pandemic response and relief, financial inclusion, cannabis banking, as well as clarity and context on fair lending, AML/BSA reform and non-bank entrants to the financial system will be on the agenda.
Bankers can participate in the Summit for free. The event will also include the Emerging Leaders Forum, Women's Leadership Forum and Mutual Community Bank Forum. Learn more and register.
Share this post: