Register to Join #BanksNeverAskThat Anti-phishing Campaign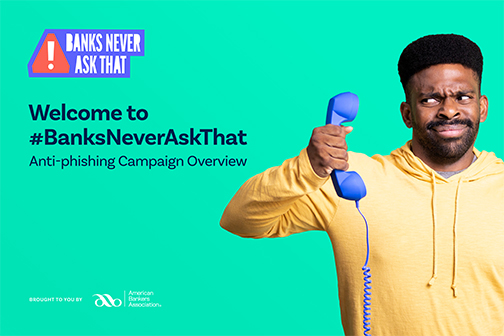 Banks of all sizes are suffering significant monetary and reputational losses from increasingly-sophisticated phishing scams targeting their customers. We want to change that.

The ABA is calling on all banks across the country—members and nonmembers alike—to register for the #BanksNeverAskThat anti-phishing campaign—a fresh, bold, plug-and-play campaign created to educate consumers about phishing scams and how to thwart them.
Register your bank today and receive a robust toolkit full of ready-to-use assets including videos, GIFs, social posts, printables and more. The campaign is entirely FREE (including for non-ABA members) and can be co-branded, bank-branded or ABA-branded.
It's time to put scammers in their place, protect your customers and reduce the financial damage to our industry from phishing. Register today, then join us in kicking off your #BanksNeverAskThat campaign on Oct.1—as part of National Cybersecurity Awareness Month.
The ABA will host a free informational webinar on Tuesday, Sept. 8, at 1 p.m. CDT at which attendees will hear about the importance of joining this nationwide campaign to educate consumers about phishing scams, the benefits to your bank and your customers, best practices for deploying the ready-made assets on your social media platforms and more. Register for the webinar. Register for the campaign. 
Share this post: